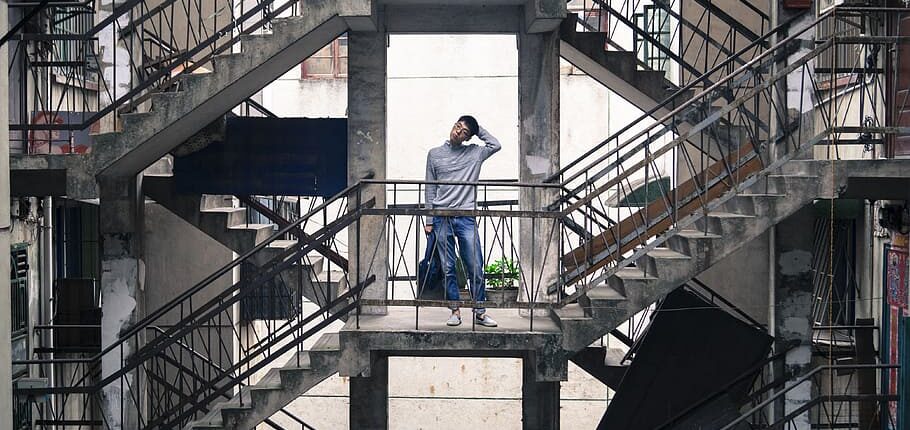 General Crane comes up with a novel solution for a tight construction space
One of our customers was recently faced with a construction project that, at first glance, seemed difficult. They needed to build a four-story set of stairs on the back of a building, but the neighboring buildings were too close to allow them to maneuver their construction equipment into the courtyard. How could they make it happen?
They contacted General Crane, and we came up with a plan utilizing crane equipment in a simple and efficient way. We provided a crane with enough capacity to pick a large boom lift and swing over and between neighboring buildings and finally setting it into a tight courtyard, allowing them to access the location of the new stairs and move their building materials.
We then lifted the steel and stairs into the courtyard where they were to weld and assemble the complete staircase. Finally, upon completion of the finished project which was —four stories, 12 feet per story—and with little room for maneuvering we carefully lifted the equipment back up, over and between the buildings.
Crane equipment often provides the solution to construction problems that seem impossible. You just need an expert who can see your challenge from a different perspective, and who knows how to select the right equipment and operator for the job.
At General Crane, our team has the experience to come up with the right plan. If you need to move heavy, expensive building materials, or navigate an awkward building site, give us a call! We'll help you figure out the best (and safest) way to get it done.
https://generalcranect.com/wp-content/uploads/2019/09/Depositphotos_7495759_xl-2015.jpg
5000
5000
Dan Drummond
https://generalcranect.com/wp-content/uploads/2018/02/logo.png
Dan Drummond
2019-09-05 12:18:27
2022-07-27 07:53:01
Solving a Building Puzzle, Step by Step