At General Construction Crane Service, Inc., we have more than four decades of experience in supporting industries like telecommunications. We can work with industrial materials such as stainless steel in heavy-duty construction work for cell towers. Our selection of personnel platform attachments enables telecom professionals to reach cell towers for installation and service.
Hiring a Crane Company for Cell Tower Installation
When you need to add towers to your network, you can depend on our cranes to provide the required construction support. We can help with aspects of cell tower installation such as:
Foundation: Our crane fleet features attachments for cast-in-place and precast concrete that enable us to help with foundation establishment.
Tower erection: Request one of our high-capacity cranes for work involving structural steel.
Antenna system installation: Once you have a cell tower established, we can also assist with installing the antenna system. Allow us to transport components and help your workers access sensitive technology.
Crane Rental and Operators to Support Cell Tower Maintenance
Our cranes and operators can also increase your capabilities when you need to perform planned or unplanned cell tower maintenance. Some of the maintenance tasks that we support include:
Inspections and service: When you need to perform tower inspection or service, our operators can give your crews access to critical systems. These systems can get to difficult-to-reach areas and provide the stability needed for maintenance work.
Performance upgrades: Our material lifting capabilities and personnel platforms will make it simple to handle your cell tower's performance upgrades.
Tower removal: During tower removal or replacement, our cranes can carry away dismantled structural materials to create room for new structures.
5 Reasons to Rent a Crane for Cell Tower Operations
When you need added crane capabilities for installation or maintenance, our services offer plenty of advantages over buying a crane. Our crane services deliver benefits such as: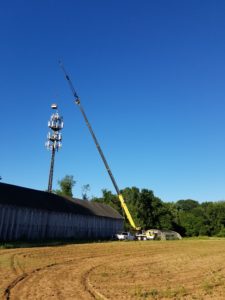 Responsiveness: In urgent situations, a rental crane offers the responsiveness you need to handle pressing demands. Compared to a crane purchase, our crane rentals give you faster access to equipment and experienced operators.
Cost savings: Our crane rentals can save you the upfront and ongoing costs of crane ownership. Instead of paying for initial capital and frequent maintenance, you will pay a predetermined rental fee.
Expertise: General Crane operators have years of experience in operating cranes for the telecom industry, allowing them to perform their work efficiently and safely every time.
Safety: At General Crane, we consider safety our number one priority. Our operators develop a crane operation plan for every project to anticipate and counter any potential safety risks.
Flexibility: The versatility of our service plans enable you to hire equipment and operators as needed. You can increase or decrease your equipment for different project scopes.
Rent a Crane for Cell Tower Construction and Maintenance
You can depend on General Crane for safe and professional crane services. Over the course of over four decades, we've maintained an incident-free safety record. Learn for yourself how we conduct business by contacting us online today.