Crane Service for Residential Construction
When you need to rent a crane for your next residential project, you can count on General Construction Crane Service, Inc. to perform the job safely and professionally. We help our customers stay on schedule and save resources with comprehensive crane services.
Crane Services for Modular Homes, Prefab Houses and Home Construction Projects
We offer a wide range of crane services for residential construction jobs. Our experts can handle all aspects of crane operation to deliver a full-scope crane solution. The types of residential projects that we support include:
Modular/prefab homes: Our cranes' have multiple levels of lifting capacity, allowing us to lift and set many kinds of modular homes. We develop in-depth lifting plans to keep the house safe during transport.
Building material lifting and transport: Depending on the specific service you need, we can receive material units for you and transport them to your site for crane work. We can lift and move a variety of materials for residential projects, including structural steel.
Site preparation: We can help you prepare a site for residential construction with our tree work and concrete services. Our team can support precast and cast-in-place concrete projects.
Electrical and HVAC installation: During construction, we can assist with electrical and HVAC installation by transporting the required equipment to the right location.
Trusses and roofing: Our operators can support your roofing installation with truss transport and installation assistance. They can also move other roofing materials for an easier installation process.
Benefits of Hiring a Crane Company for Home Construction
Renting our cranes for residential construction offers a variety of advantages over doing your own crane work, including: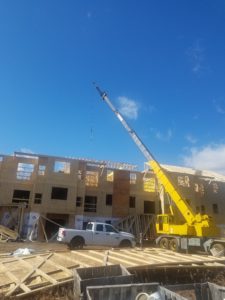 Flexibility: If you don't have to use a crane for every project, our services will enable you to get a crane and operator as needed. You can specify as many cranes and operators as you need for each job to optimize your costs.
Cost savings: By renting a crane service, you can save the upfront and ongoing costs associated with buying a crane. When you add a crane to your fleet, you need to invest in the initial capital, operator training and maintenance. Meanwhile, we charge a straightforward fee based on the level of service you need.
Convenience: We make it simple to get the crane work you need for your next job. While we take care of equipment maintenance and operator training, you'll get to enjoy the results.
Expertise: Our operators have the training to use multiple crane models, as well as the experience and certifications to operate a crane safely and efficiently.
Safety: At General Crane, we prioritize safety in all of our services. Throughout our over 40 years of business, we have maintained an incident-free safety record.
Count on General Crane for Reliable Crane Services
At General Crane, we hear from many customers how easy it is to work with us. We strive to deliver the crane services you need on time and with the highest degree of professionalism. To see the quality of our services yourself, contact us online today.