Full-Service Crane Rental for Sign Installation
Cranes are essential pieces of equipment for a variety of jobs, including installing building signs. Whether you need a tall sign erected to designate your restaurant's location or you're looking to install a sign on the roof of your commercial building, you need the operational capacity of a crane.
General Crane is New England's reliable source for crane rental services in a variety of industries. If you need a sign installed for your business, count on the professionals at General Crane to meet your requirements. We have over 40 years of experience maintaining and operating cranes for a wide range of applications. Learn more about how we can help you install the perfect signage for your property.
Five Considerations When Installing a Business Sign
Signs play an important role in promoting the success of any business. They're used to communicate a company's products, services and brand identity while also ensuring a location is widely visible. A sign should be large and tall enough to be seen from a reasonable distance.
When installing a business sign, you need to consider many factors, including: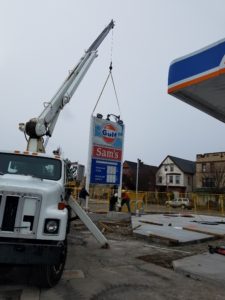 Which type of signage you need for your business
The type of lighting configuration needed
The height requirements of your sign
The weight and dimensions of your sign
How the sign must be rigged for proper installation
To safely and efficiently install a business sign, you need the power and range of a crane. That's why General Crane offers comprehensive crane rental services for sign installation across New England. Based on the type of sign you need to install, we'll help you determine the right type of crane for your project.
Make Safety a Priority With Sign Installation
At General Crane, safety comes first in every aspect of our business. Sign installation can create a hazardous working environment, so it's crucial that proper worksite safety protocols are followed when hanging signage. Not all signs can be installed by hand — that's where the experienced professionals at General Crane come in.
While small hanging signs can be installed using ladders and scaffolding, larger signs such as supermarket store or hotel signs will likely need the help of a crane rental company. In accordance with OSHA guidelines, we provide sign installation services for businesses across New England. We use well-maintained cranes operated by experienced professionals, and we're proud to say that we have an incident-free safety record. For timely crane rental services for signs, trust the team of experts at General Crane.
Contact General Crane for Efficient and Safe Installation
If you need a crane rental for your sign installation project in Massachusetts, Connecticut or Rhode Island, reach out to our friendly team today. When it comes to safety and efficiency, no one provides crane rental service like General Crane. Get in touch with us today by contacting us online or calling (860) 528-8252.