Reliable Crane Rental in Massachusetts
Cranes used in construction and other job sites help make many lifting and transporting tasks easier. If you have a project in western or central Massachusetts that requires a reliable crane rental, you can count on the experts at General Crane. We have been in the business since 1972 and are happy to serve the region's crane rental needs.

Providing Massachusetts Companies With Experienced Crane Services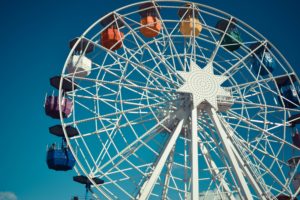 General Crane has provided efficient and safe crane services for many projects in MA. One of our notable partnerships in the region is The Big E, an expositional event for Massachusetts, Maine, Rhode Island, New Hampshire, Connecticut and Vermont.
The Big E features a variety of rides and attractions that require cranes for careful and expert assembly. We consider the height and weight specifications for each ride and assign an appropriate crane and competent operator to complete each job. Our crew makes sure that each ride is safe and ready to go by opening day, helping all attendees have an enjoyable time at The Big E.
General Crane will also partner with you to meet all of your crane needs for your project. From assembling fair rides to lifting HVAC units to apartment complex roofs, we can complete any project we're offered.
Partner With General Construction Crane Service, Inc.
General Crane is one of the best crane companies in MA, and you can count on us to bring experience and reliability to your project. We are proud to serve the state with crane rental services to keep your projects running efficiently. Choose General Crane for our:
Experienced crane operators: The crane operator we assign for your project will have experience in many crane rental service jobs. Our staff of crane operators has 100 combined years of experience operating cranes, and they will rely on their deep skillset when working at your job site.
Care for safety: At General Crane, the safety of you, your crew and your job site is our number one priority. We are proud to be one of the only companies in the region with an incident-free record. We'll perform every task at your job site with safety in mind.
Large crane fleet: We have a vast fleet of cranes available for rent, so we're sure to have a machine that will meet your project requirements.
On-time response: We will show up at your job site on time, ready to start your project. Our timeliness means that your project can move forward as scheduled.
24/7 availability: We offer our crane rental services 24/7 for your convenience. If you need a crane on short notice, you can count on us for a solution that's cheaper than purchasing your own heavy equipment.
If you need crane service in MA from trustworthy professionals, contact General Crane. We happily serve MA's crane rental needs. Call us at 860-528-8252 or fill out the contact form on our website today.