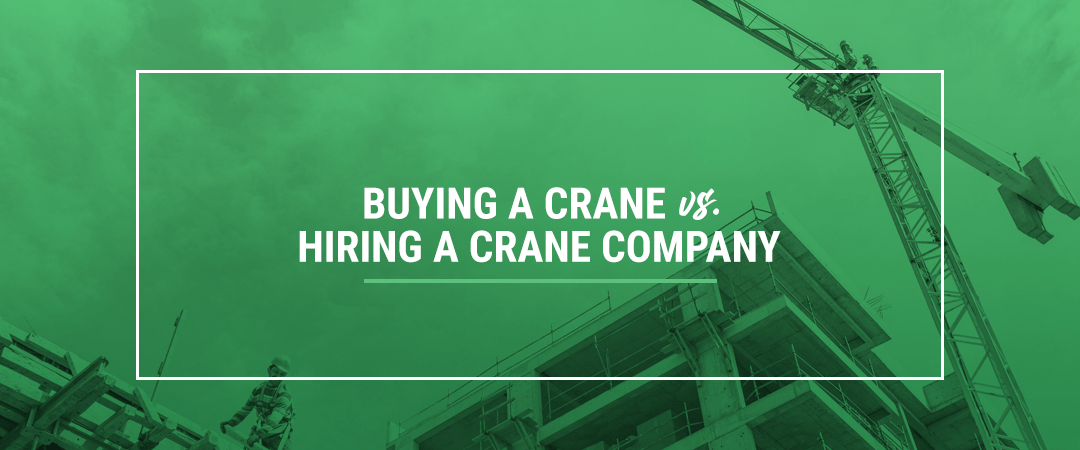 If you need a crane around your work site, you have two options — buying or renting. When you purchase your own crane, the machine is yours, along with its maintenance, storage and liability. You're also responsible for securing and training a crew who knows how to operate the crane safely and efficiently. When you choose to rent a crane, you can hire an experienced and licensed crane crew along with it, easing the burdens of ownership and operation.
How do you know if you should buy or hire a crane? Read on to learn more about crane hire companies and why they might be the best fit for your project.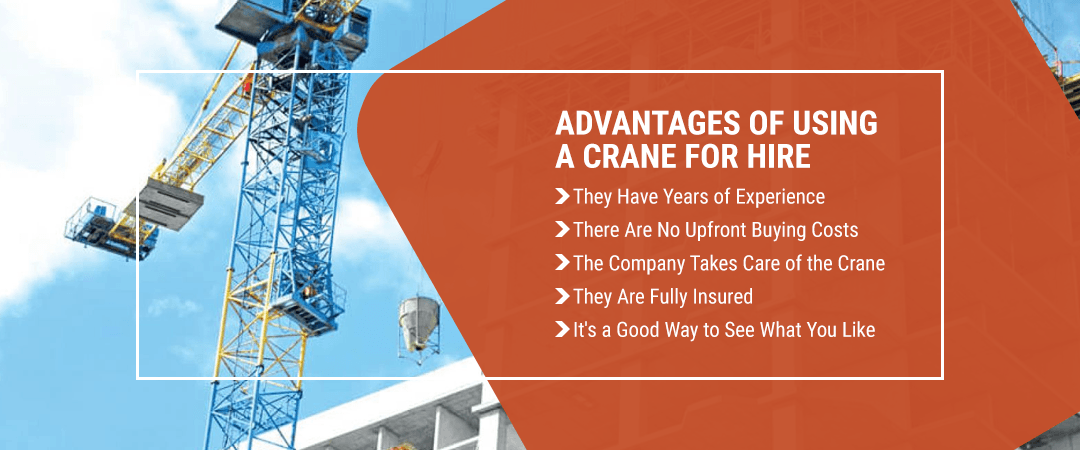 Advantages of Using a Crane for Hire
Cranes are a versatile piece of equipment. You can use them to lift and lower materials in addition to other material handling and transportation needs. Because you can use cranes for a range of tasks, they make you more marketable and efficient across industries and projects. If you're trying to decide between buying or renting a crane, consider the following advantages of crane rental companies:
1. They Have Years of Experience
Crane operators for hire have years of hands-on experience operating a crane under various circumstances. This makes them very efficient, which saves you time on your project. Because the operating crew already knows what they're doing, you also don't have to worry about hiring new employees or retraining your existing team to handle operations. This can help you create a safer workplace where you can focus your time, budget and efforts on other areas of your job.
Full-service crane companies, including General Crane, offer around-the-clock availability throughout the year, so you can work when you need to.
2. There Are No Upfront Buying Costs
When you buy a crane rather than renting it, you are responsible for securing the money you need for the initial purchase. You also have to account for the fuel, storage, transportation, maintenance and insurance of that equipment. If you're a small or new company, this can be a substantial investment that may not be the most beneficial for your situation.
When you rent a crane, you can choose when and how long you need that equipment around your work site. Instead of a large investment, you only pay for the duration of time you're using it. The company you work with will take care of the details, allowing you to concentrate your time and money on your project. When renting equipment, you also never have to worry about that investment depreciating over time.
Crane hire cost depends on several factors, including the type and size of the crane, the duration of your rental period and the company you work with. You have the freedom to customize your rental by choosing cranes with special features and attachments. If you only need a crane for a few tasks around your site, renting is often the most economical decision.
3. The Company Takes Care of the Crane
Full-service crane companies take a lot of stress and responsibility off your plate. When you work with a crane company, they'll take care of:
Storing the crane somewhere safe.
Inspecting, servicing and maintaining the crane.
Making replacements and repairs.
Some companies, like General Crane, also offer 24/7 emergency service, so you can get the help you need when you need it.
4. They Are Fully Insured
When project managers set out to buy a crane, one of the most significant roadblocks can be insurance coverage. When you own your equipment, you're responsible for contacting your insurance company about whether or not the crane will be covered. In most cases, this means altering or purchasing additional coverage. Otherwise, mistakes and malfunctions can be very costly.
When you work with a full-service crane rental company, they already have all the necessary licenses and insurance to operate the machine. If the crane malfunctions or a mistake happens around the worksite, they have it covered. This means you don't have to worry about insurance paperwork and choosing new policies. Plus, you have the peace of mind that your project is safe and on the right track.
5. It's a Good Way to See What You Like
If your project or business model includes owning a crane someday, using a crane company might still be a great option to start. When you rent equipment, you get the chance to experiment with different manufacturers, crane types and sizes, attachments, optional features and more. This lets you see what you like, dislike, need and want in a controlled, cost-efficient environment. By using your rental to your advantage, you avoid investing significant capital into a machine that might not be exactly what you're looking for.
Renting before owning is also a good way to see the day-to-day logistics of owning a crane. You'll get a better idea of how they operate, the best way to store them and what you need to consider and finalize before purchasing your own.
Should I Buy or Rent a Crane?
Should you buy or hire a crane? The answer depends on your specific circumstances, needs and available resources:
Frequency of use: Do you require a crane for a one-time job or single task, or is it an ongoing need? Will you use the crane in your daily operations? If so, how many tasks do you expect to use it for each day? If you only need a crane for a few projects or a brief interval of time, renting may be the better option.
Available resources: Take a close look at your existing resources. Do you have the available space to store your crane? Does that storage area have high ceilings to accommodate the height of the machine? Do you have the necessary capital to make a large investment? What about ongoing expenses, like fuel, maintenance and repairs? The more resources you need, the more you'll have to invest to own a machine. Renting eliminates many of these concerns, making it an easily adaptable option for all types of projects.
Crew experience: Do you or your crew members know how to operate a crane, or will there be a learning curve? Is operation training in your budget? Are you working under a tight deadline that may not give you the flexibility to learn a new piece of machinery? If you don't have the experience, time or crew necessary for owning a new machine, partnering with crane hire companies is a great way to meet your needs.

Contact General Crane for Your New England Project
Investing in a crane can be an expensive, time-consuming venture. When you choose to work with a full-service crane rental company like General Construction Crane Service, Inc., you don't have to worry about extending your insurance, retraining your crew or securing storage and maintenance for a new machine. Instead, our hardworking crane operators are available to help you get the job done and offer years of industry experience and training. Customize your crane rental to fit your project needs, and let us take care of the rest.
Contact a General Crane representative to learn more and request a quote today.