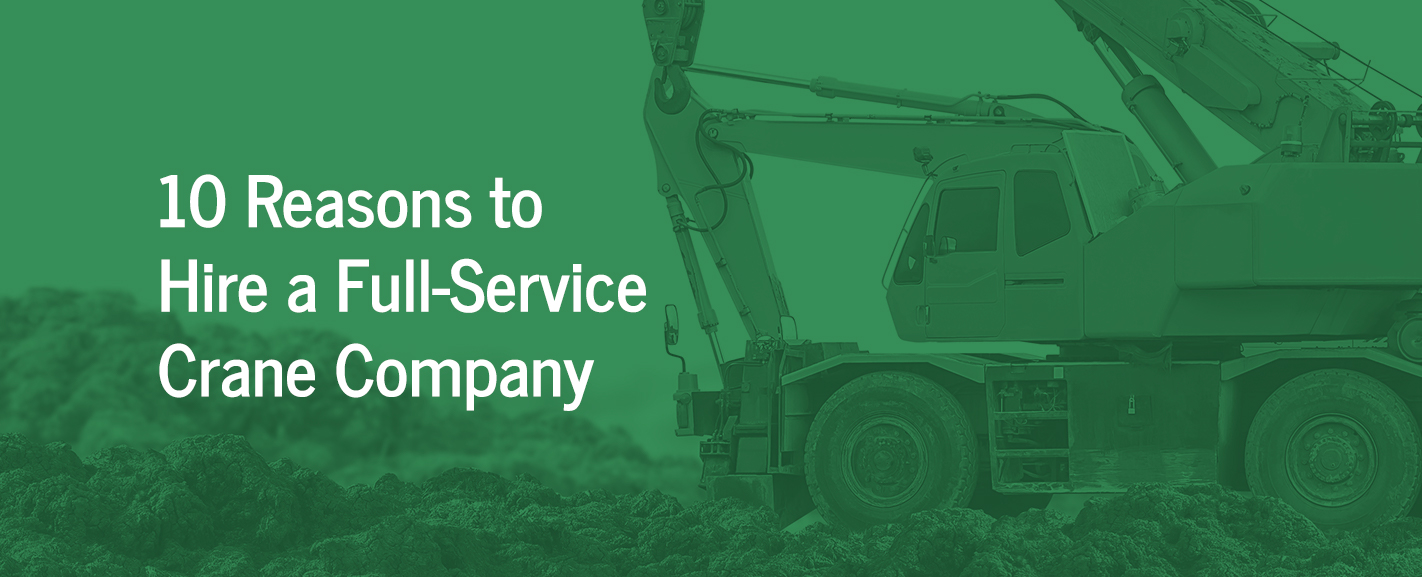 When you need a crane on your job site, you have a few options. Yes, you could buy or rent a machine and operate it yourself, but there's another solution. Instead, work with a crane service company that provides a team of skilled workers in addition to a crane rental. A full-service company provides you with the equipment you need for your project and a knowledgeable team to run the machinery.
Not sure if you should hire a full-service crane company? It's a big decision for your worksite and one that will come with a vast array of benefits. Check out the top 10 reasons to hire a full-service crane company below to help make your decision an easy one.
1. Experience
Running a crane requires a lot of experience. Crane operators have training and experience with a specific machine and general crane operations, and that experience brings other benefits to your site.
If you were to bring a crane expert onto your team permanently instead of hiring a full-service crane company, you'd have plenty of costs to cover. Crane experts need additional licensing, recertification and training that you'd have to pay for. Instead, work with a company of trained professionals who have the necessary certifications and training.
2. Efficiency
Experienced professionals bring efficiency to a job site. When crane operators know what they're doing, they do it well and efficiently. When you hire a crane company that's reliable, you're sure to get that efficiency throughout your project. You'll work with a team that understands how essential it is to be timely on a worksite, and that enhances your ability to work efficiently.
3. Safety
Again, experience provides another benefit. In this case, knowledge and experience operating a crane make your job site a safer place. A credible crane service company will have policies in place that involve training for crane operators and employees. That ensures everyone on a worksite handles equipment properly and stays safe. You could see fewer reported incidents, fewer accidents and other problems. That'll make your team look reliable and trustworthy.
4. Cost and Time Savings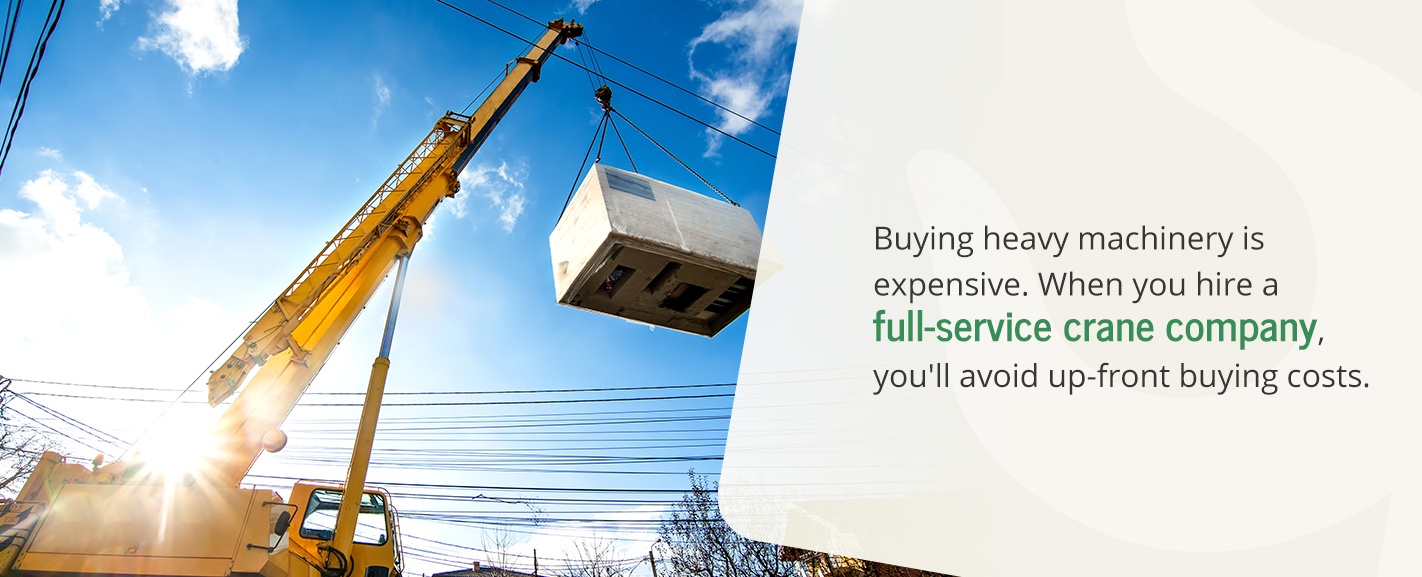 Buying heavy machinery is expensive. When you hire a full-service crane company, you'll avoid up-front buying costs. Instead, the cost of your equipment is that of a rental. If your company only needs cranes on certain occasions, don't put all your money into buying one. While the rental cost will vary depending on who you work with and what you need, renting a crane will be more cost-effective than purchasing one.
Full-service crane companies can also handle the logistics for labor and delivering your equipment. They could acquire the necessary permits for parking and street closure if your worksite requires it, as well. That'll save you time and money on your job site, and you'll only have to focus on your crew and machinery.
5. Maintenance and Storage
When you own your machinery, you're responsible for any and all maintenance, care and storage. When you rent a crane, you don't have to worry about pricey inspections or upkeep, which saves you even more money as a bonus. You also don't have to worry about storing the machines you rent. A full-service crane company will take the cranes away when the job is done, giving you one less thing to pay for and think about.
6. Insurance Liability
With a crane operator on your team, you risk various liabilities. If they make a mistake or your crane breaks down, you could have costly consequences on your hands. With a reliable crane company, you'll work with a full-service team that has their own insurance. Find a fully-insured company that covers any damage or accidents that happen and cut down on your job site liabilities.
A reliable crane rental company should also have little to no reported incidents. That shows a dedication to safety and quality work, which again cuts down on liabilities.
7. Material Transportation
If you get the right crane for your job and work with a qualified operator, moving materials around your job site will be more efficient. An experienced operator will lift, stack, store and move materials with ease, and they'll help you pick the right crane for the job.
A qualified operator from a crane rental company will move materials efficiently and carefully. They'll consider how they transport the materials, evaluating how the placement could impact walkways or common areas. An operator will also take special care around power, water and gas lines.
8. Versatility Across Jobs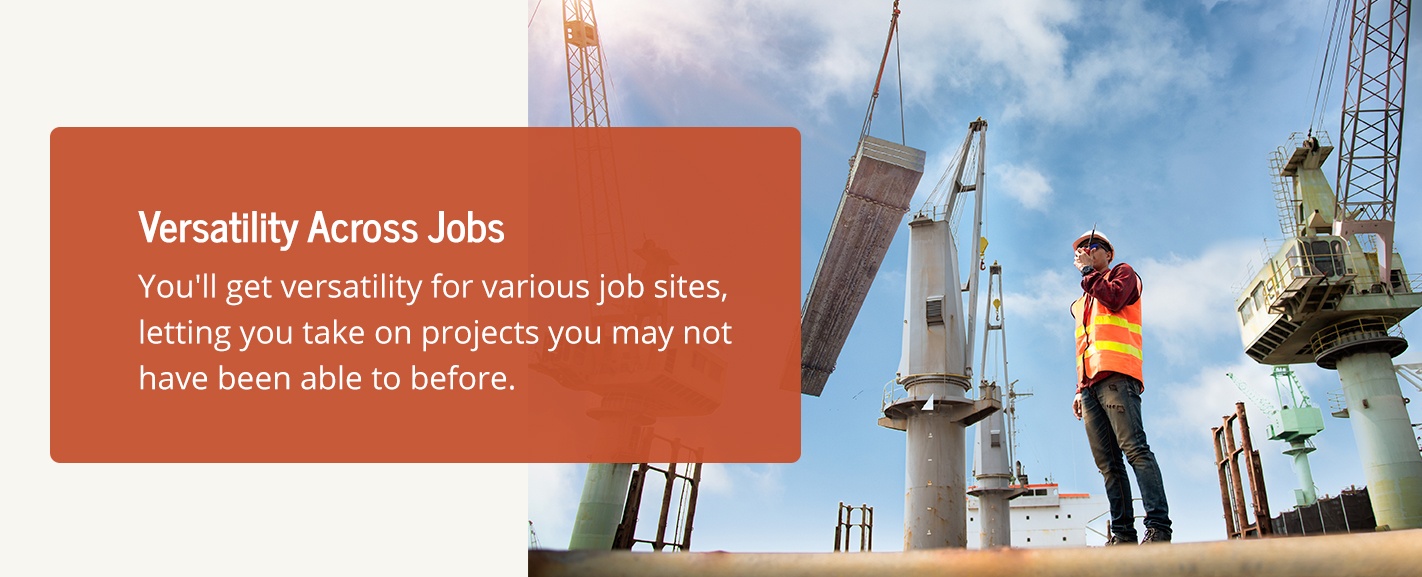 Whether you and your crew specialize in one area or complete a variety of jobs, rent a crane from a full-service company. You'll get versatility for various job sites, letting you take on projects you may not have been able to before. Work on anything from small to large sites, demanding jobs to simpler ones, thanks to your access to specialized equipment and services. Working with a full-service company to get a crane with an operator gives you access to various machines without having to buy each kind.
9. Expanding Your Team
When you hire a full-service crane company, you expand the abilities of your team. You can take on various jobs and tackle different tasks with your new temporary team members. With a credible company, the professionals you expand your team with will bring knowledge, experience, safety, efficiency and other useful qualities to your site.
10. 24/7 Emergency Service
Find a crane rental company that's available every hour of the day, every day of the week. You'll get emergency service when you need it and quick answers to your questions. Quick response means you can meet your project's needs efficiently and have a quicker turnover time.
Hire General Crane for Your Crane Needs in New England
Trust General Crane for your crane service in Connecticut, Massachusetts and surrounding states. At General Crane, we'll only send experienced crane operators to your worksite, no matter how big or small your job is. Our goal is to provide safe and dependable service at every job that needs a crane rental in CT and neighboring states. Plus, our team has over 100 years of combined experience working with a large selection of cranes, ideal for a variety of jobs.
If you need a crane company in Connecticut, hire General Crane today. Contact us for more information about our crane rental and operator services.
https://generalcranect.com/wp-content/uploads/2020/08/02-Cost-and-Time-Savings-1-e1598467414975.jpg
533
487
Dan Drummond
https://generalcranect.com/wp-content/uploads/2018/02/logo.png
Dan Drummond
2020-08-26 14:39:33
2022-07-27 08:04:52
10 Reasons to Use a Full-Service Crane Hire Company