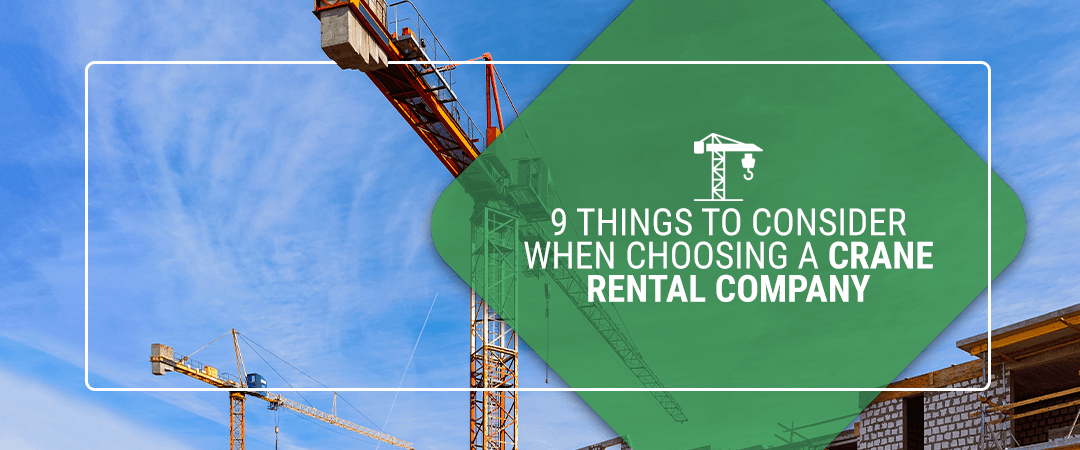 If you need a crane rental service, you want to choose a company that has knowledge, experience, a good track record and a well-serviced fleet of machines. To help you narrow down your search for the best crane rental company in your area, we've selected nine important things for you to consider:
1. Safety
The first thing you should consider is whether the company adheres to safety rules and standards. The company should have insurance for their employees in case an accident happens on-site. If they don't, they may be unable to compensate you for damages, meaning you may have to pay for them yourself.
The steps the company takes in the event of an accident are important to consider. You don't want to risk hiring a commercial crane rental service that doesn't have complete insurance coverage from a trusted insurance company. When considering options, ask or look for a crane service provider's proof of insurance.
2. Experience
You may feel tempted to go with the cheapest option. Instead, it may be wiser to choose a crane rental company that has been in the business for many years, even if they charge a little more. If a company's operators lack experience, you'll end up paying more in other ways, for example:
The project may take longer.
The project might not move forward.
Your property may get damaged.
When vetting a crane service company, ask how many years of experience their operators have. Feel free to ask them about challenging projects they took on and how they were able to complete them. When hiring a company with many years of experience, you can save both money and time.
You can also ask about the operators' training requirements. The operators should be able to provide their credentials. Once you obtain these credentials, compare them with those of other crane services you're considering. Our operators all have a CT Crane Operator License, and their combined experienced totals over 100 years. Whereas many organizations experience accidents every few months, at General Crane, we have been accident-free since we started in 1972.
3. Responsiveness
When speaking with a company, one of your first impressions comes from how fast they respond to you. This includes how fast they answer your emails, return your calls and provide you estimates. Prompt responsiveness in these areas is a sign they care. If a company is responding to its customers in a timely manner, you can expect the rest of your experience may follow suit as you move forward with your project.
4. Timeliness
Like responsiveness, timeliness is another sign of a company's professionalism and its care for its customers. If a company provides an estimate when they say they will or arrives at the work site before the scheduled time so they can set up, there's a good chance they can keep your project moving in other ways as well. At General Crane, we are known for being prompt and courteous of other's time.
5. Availability
When hiring a commercial or residential crane rental company, confirm whether they are available on the days you'd like the project completed. If you'd like to hire the service for multiple days, confirm they will be available for that entire period. Ask the company to let you know when the crane won't be available, and take a look at the operator's schedule as well. If you hire a crane with an operator who is frequently unavailable, this can be a major inconvenience. Check with the operators and a representative of the company to ensure their availability lines up with your needs.
6. Reputation
Another great indicator of the company's quality is what their customers say about them. The company you choose should have a large number of positive testimonials about the work they've done. The best rental companies tend to have many regular customers who depend on them for their short-term crane contracting services. If many customers are saying good things, this is a good sign.
You should also consider the time they've been in business. If they've been operating for decades, this most likely means they're experienced and trusted in their community.
7. Customer Service
If you're like most people, your decision to hire a company may depend on your customer service experience with them. Customer service is a good gauge for a company's overall professionalism, so when shopping for a crane service provider, pay attention to how they treat you over the phone, on their site and in person.
If they treat you with the attention, respect and care you deserve, you can likely trust them with an important project. If a company values its customers, it shows. Pick one that makes you a top priority.
8. Equipment
Reputable companies are generally equipped with large fleets of cranes capable of lifting a range of classes. At General Crane, we have a broad range of cranes suitable for a wide variety of projects, including:
Cell towers: Having supported the telecommunications industry for decades, we have expertise in cell tower construction materials.
Mechanical and electrical contractors: We also regularly support mechanical and electrical contractors with a variety of projects, including installing and maintaining power lines, plumbing, refrigeration and HVAC systems.
Residential construction: We have cranes that help build pre-fabricated and modular homes, transport and lift a variety of building materials and perform tree work.
Structural steel: General Crane also assists with the installation of structural steel in commercial and residential buildings, industrial facilities, sports and entertainment complexes and bridges.
Roof trusses: Due to their enormous size, roof trusses usually need to be lifted and maneuvered into place with a crane. With our equipment, we can perform this challenging task efficiently and quickly.
Learn more about what we can do by visiting our capabilities page.
9. Maintenance
In addition to a good fleet of cranes, you want a company that inspects and maintains their equipment regularly and thoroughly. Any reliable and reputable crane service company should keep records of their maintenance inspection. Ask for these records, as they can let you know whether you're paying for a well-maintained, efficient machine that can perform the tasks required for the project.
You will also want to hire a company that is capable of dealing with machinery breakdowns during the project. If a machine stops working mid-project, it's nice to know the company will send a technician out right away to get it up and running as soon as possible.
Choose General Crane When You Need a Professional Crane Rental in CT
General Crane strives to make sure every step of your project is completed in the most cost-effective, efficient and safe way possible. As a crane company in CT, we're equipped to serve the counties of Hartford, Middlesex, Litchfield, New Haven, Fairfield, Tolland and Windham. If you're considering crane companies in CT, call us at 860-528-8252 or fill out our contact form so we can assist you with your crane rental needs today.