According to the 2018 Construction Industry Economic Outlook, construction is on the increase. The industry has experienced growth over the last 5 years with expected increases in 2018 and beyond. The strongest area of growth is in commercial construction (offices, parking garages and transportation terminals) which is expected to have a 12.4% increase in starts for 2018. It is expected to continue to grow thru 2021.
To read more about industry predictions overall, check out the entire blog post at Construction Connect.
Understanding this trend, it is critical that construction companies are able to get the people they need, meet tight deadlines and keep the project moving forward. This applies to all phases of the construction process including crane work.
There are three critical considerations when hiring a crane company…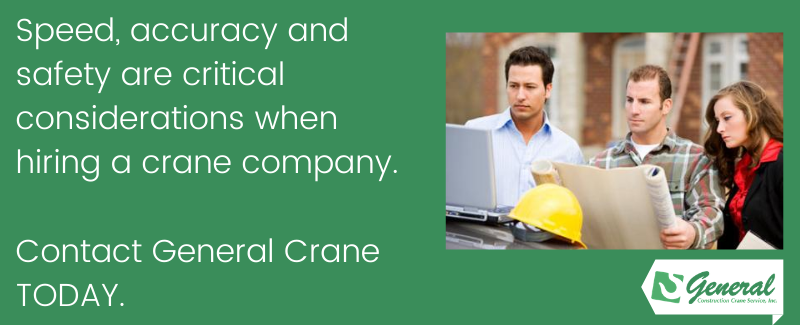 Speed
Speed is critical for two reasons. The first is, with the increase in projects overall, timing is tight. The construction company may be going from one project to another and can't afford to wait on the crane operator. The second reason speed is important is that it's a cost savings. Since every step of the process leads to another, the construction contractor can't wait for a crane operator. This backs up the job and could cost them in labor hours for the next person in the process.
Accuracy
Accuracy is similar to speed in that it won't slow down the process. The columns and beams need to be placed in the right location the first time. It is also necessary to ensure there are no problems, which leads to safety.
Safety
Speed and Accuracy are important but they cannot be achieved at the expense of safety. Nothing delays a project more or adds to the cost than an accident. It is critical that safety is of consideration at all times.
Speed, accuracy and safety may seem obvious but they certainly aren't guaranteed. That is why it's critical to ask the right questions when hiring a crane operator. Some of those questions include…
How much experience do you have, specifically at a construction site? They may have experience in other industries, tree work for example, that may not translate directly to the commercial construction industry.
How do you determine the equipment to use? Be sure the crane chosen is the right one for the job not the one they have available.
What are the qualifications of your operators? Be sure that they are experienced and licensed
Can you provide a safety record? When was the last time they had an accident?
And always ask for referrals!
At General Crane, all our operators have passed the CT Crane Licensing Test and have over 100 years of combined experience. Most organizations measure being accident free in days and months, at General Crane, we measure our accident free in years. Since opening in 1972, we have proudly remained accident free.
From project estimation to alternative recommendations, General Crane will ensure the job gets done in the most efficient, safest and cost-effective manner. Contact Us at 860-528-8252 with your crane rental needs.
https://generalcranect.com/wp-content/uploads/2018/08/5-questions-to-ask.jpg
338
450
Dan Drummond
https://generalcranect.com/wp-content/uploads/2018/02/logo.png
Dan Drummond
2018-08-20 14:37:34
2022-07-27 08:57:34
Five Questions to Ask Before Hiring a Crane Contractor for a Commercial Construction Project