Removing trees from a property can be tricky. Using a crane to do the work adds an additional layer of complexity. That is why it's imperative to hire the right crane operators for the job.
In addition to being licensed, experienced and professional, there are other requirements for crane assisted tree removal.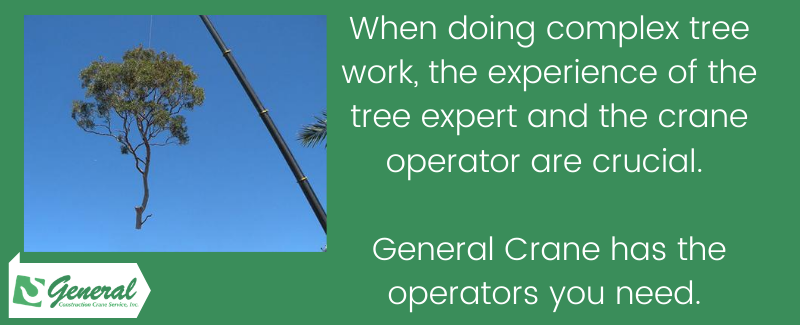 The tree expert needs to be an expert on the type of trees being removed.
It's imperative that the crane operator understands the weight of the trees they're working with. Obviously an oak weighs more than a birch, but what does that mean as it relates to removal?
We recently worked with a tree guy who could tell us the weight of each cut piece to within a hundred pounds.  The project went smoothly because the ground crew was prepared to tell us the job specifications. We then did not have to constantly adjust the crane once the log was picked up.  The expertise of the tree expert saved the client time and money when removing trees.
The crane operator needs to be experienced.
Often tree work requires the crane operator to do work that is not in the line of sight. This can be very challenging for someone who does not have experience in crane assisted tree removal.
They also need to understand how the weight and shape of each log will affect the process. Worst case scenario, underestimating the weight could lead to tipping the crane, or overestimating the weight cold lead to dropping the log where you don't want it to fall. Our highly skilled operators go through extensive training to prepare them for these scenarios, saving the client's bottom line.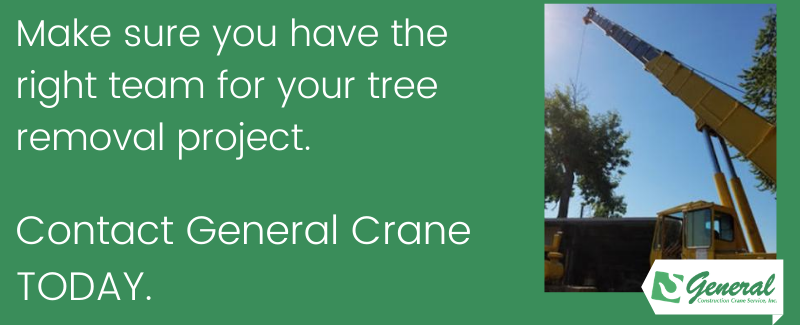 It's that time of year when property managers need to address their tree needs. Before the winter storms with snow and wind, they need to get the unhealthy trees cut and removed. Make sure you choose the right team to do it for you. Contact General Crane or give us a call today.
https://generalcranect.com/wp-content/uploads/2018/10/treeremoval500.jpg
391
500
Dan Drummond
https://generalcranect.com/wp-content/uploads/2018/02/logo.png
Dan Drummond
2018-10-29 11:49:23
2020-08-12 15:52:53
The Complexity of Tree Work When a Crane is Needed