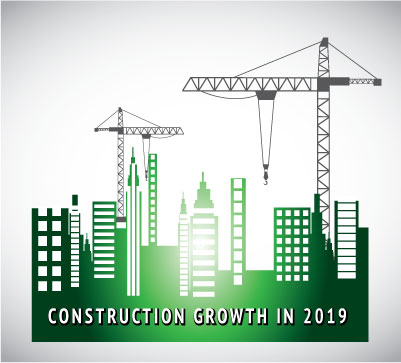 It's a challenge if you don't have the people you need to get the job done right.
Residential, private nonresidential, and public projects are all growing, and construction spending is up. According to an article by Ken Simonson on ContractingBusiness.com, year-over-year construction growth is expected to continue in 2019, and that means employment in that sector is up, too. It seems that not only are contractors busy now, but they are also confident enough in future projects that they are hiring—and hiring a lot. There were 278,000 job openings in construction at the end of September, the highest September total since the Bureau of Labor Statistics began estimating this number 18 years ago, and a 55% jump from the September 2017 figure of 179,000.
A robust job market means competition to get the highest skilled workers, and filling jobs is becoming more difficult for general contractors in charge of major construction projects. The numbers cited in the article support what many of you already know: there are simply fewer experienced workers available. The unemployment rate for jobseekers with recent construction experience dropped to 3.6% in October, the lowest October rate in a series dating to 2000. Even the pool of workers without experience is growing more slowly, as the number of retirements rises and the number of new workforce entrants flattens or shrinks. And the competition from other sectors for workers has stiffened, as the unemployment rate for all adults has fallen to a 49-year low.
Hiring a crane specialist
Having a skilled pool of laborers is vital on a construction site, so what is a contractor to do if he just can't find the right people? Sub-contracting is the answer. One area that is particularly suitable for this is crane service rental. You can get the expertise you need without having to look for a full-time employee. However, you need to make sure you're hiring the right company. For more on hiring a crane company, check out our blog posts from last year about the 5 Questions to Ask Before Hiring a Crane Contractor.
General Construction Crane has been in business since 1972, and we can provide service for all types of construction jobs. Most importantly, we use only experienced crane operators no matter what size the job is, so we can provide safe, dependable service in every case. As a matter of fact, we have an incident-free record.
The numbers show it: construction is trending toward even more growth in 2019. Don't get caught without the qualified personnel you'll need to keep up with the demand. Get ahead of the game and partner with a reputable crane rental company like General Construction Crane Services now, so you can be sure you'll have the manpower you need when you need it.
https://generalcranect.com/wp-content/uploads/2019/04/ConstructionGrowth.jpg
363
401
Dan Drummond
https://generalcranect.com/wp-content/uploads/2018/02/logo.png
Dan Drummond
2019-04-17 13:35:40
2022-07-27 10:00:34
Construction is growing, but is that a good thing?