As the school year ends, colleges, universities and K-12 schools turn to the task of maintenance during the summer. Among others, one of the more common projects is roofing. Unlike many other projects, it often requires a crane
Facilities and Maintenance Managers often rely on their roofing contractor to handle this part of the project but it's good to understand what's involved.
When renting a crane for a project, there are many things to consider…
Capacity – how much weight can the crane handle?
Reach – once the crane has picked up its load, how far does it need to reach to place at in its destination?
Insurance – is the crane rental company sufficiently insured
Certifications and Licensing – do the operators have the right credentials?
Safety – what is the crane rental company's safety record?
Experience – does the company have the experience necessary to do the job?
Although all of these things are important, I'd like to focus on experience. Experience means so much more than the knowledge to do the job. It allows an operator to do the job efficiently. This translates into a cost savings for the educational facility.
At General Crane, we have worked at many school projects around the state. Our most recent project at the University of Hartford involved sending up materials and bringing down debris. This is a pretty standard roofing project. However, it was our experience that made the difference.
The project was quoted from another company using a 45 ton boom truck. We used a 35 ton crane instead. With this crane we were able to move 4×4 and 4×8 pieces of insulation as well as 800 lb. rolls of rubber. The project was based on the height of the roof which is 35 ft. and the distance beyond the roofline the crane needed to reach. Using the 35 ton crane we were able to reach 80 ft. beyond the roof line and up to 105 ft. when needed (parking the crane 25 feet from the building).
The ability to use the smaller crane resulted in a $200/day savings on the project which lasted a total of 13 days. Although facilities managers will continue to rely on their roofing contractors for crane rental, it's ideal to understand what that entails to ask the right questions.
Contact Us at (860) 528-8252 for more information on our crane rental services.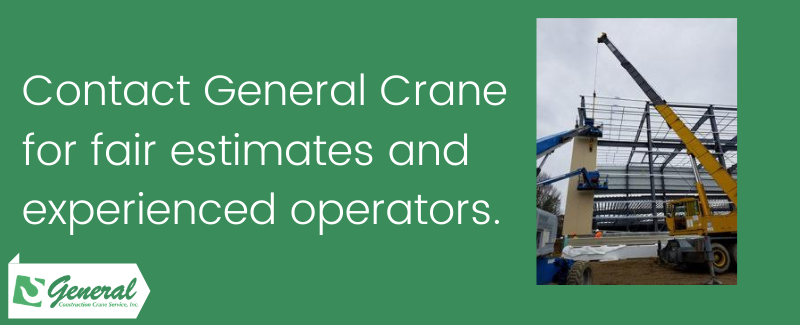 https://generalcranect.com/wp-content/uploads/2018/07/university-1-e1531252108436.jpg
365
500
Dan Drummond
https://generalcranect.com/wp-content/uploads/2018/02/logo.png
Dan Drummond
2018-07-10 15:49:16
2022-07-27 09:54:28
Understanding Requirements When Renting a Crane for Your Schools Roofing Project.